Dear Client
Thank you for reaching out to us. Further to your request, find more information below.
US: We are Temple's Counsel & Mind Academy (TCMA), a certified Psychotherapy and Counseling practice that offers Personal(Relationship/Guidance/Grief/Career), Marriage, Addiction and Exit Counseling services. Our practice covers Lagos, Abuja, Port-harcourt and could also be offered online where we attend to clients from other African countries and beyond. Our therapy/coaching services have assisted clients recover from;



"Addictions, Affairs, Anxiety/Mood/Personality/Trauma-related Disorders, Suicide, Esteem Concerns, Grief, Anger & Marriage Issues".
OUR OPERATIONS: We have 1-on-1/live sessions in Lagos, Abuja and Port-harcourt for 2 days every week. Clients from any other part of the country can book/opt for phone or online video counselling options any day of the week. Our "after-work" online sessions created for individuals who may not be able to participate in regular daytime sessions begin from 6pm to 9pm. For out-centre sessions during weekends (sessions outside our counselling centres), we charge an extra fee for this service.


For clients who may be looking at using our services at some other time, click the link to visit our site and use some of our free resources on https://templescounsel.com/media/.
PLEASE NOTE: To enable us to attend to other clients we only allow clients to book for a maximum of 2 sessions (120 minutes) per day. Our client one-on-one session slots MUST be confirmed & paid for between 32 -24 hours prior to session time.

Kindly find below, our revised fees applicable to our various service offerings.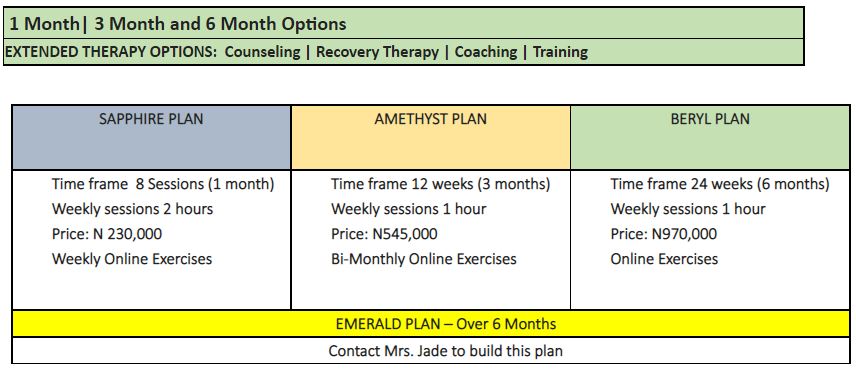 Make payments to the relevant account below or on your attached invoice (if applicable). Session(s) will be booked post-receipt of fees.
 Local Payments
Account Name: Temples Counsel & Mind Academy Ltd.
Bank: Zenith Bank Plc.
Acc. No.: 1221040154
After selecting a plan and making payments into the included account, available time slots will be shared via email and a session booked for you at the earliest. (Post-payments, do send us a screenshot (via whatsapp on +2347066663071) of the payment advice to enable us proceed with booking your session. This way we don't have to wait for actual alerts to proceed).
Wishing you a productive session in advance.

We accept the following payment methods:
Interbank Transfers
 Local Payments
Account Name: Temples Counsel & Mind Academy Ltd.
Bank: Zenith Bank Plc.
Acc. No.: 1221040154
Attention: Some notes for you when booking an appointment.
Our Cancellations/No-Refund Policy
As common with most professional services, our practitioners are self-employed and therefore need to manage their diaries and travel time to destinations within Nigeria and outside efficiently. We therefore operate a strict no-cancellation/no-refund policy requiring all clients to give us a minimum of two business days' (48 hours) notice of any cancelled session. The received session fees cannot be refunded but can be used at another time or given to someone else to use within 2 months. Session fees not utilized within 2 months will be forfeited.
Consultation Fee Exemption / Reduction Policy
TCMA has a policy of exemption and reduction of consultation fees for the following cases:
Client Confidentiality Agreement
TCMA's client confidentiality agreement is there to ensure our client (YOU) is safe and protected in-session. Click the button below to download client confidentiality form.